eyeson has all the collaboration features you need! Screen sharing, audio and video conferencing, recording, streaming, mobile apps, and more.
The following image illustrates the case of 9 people having a video call.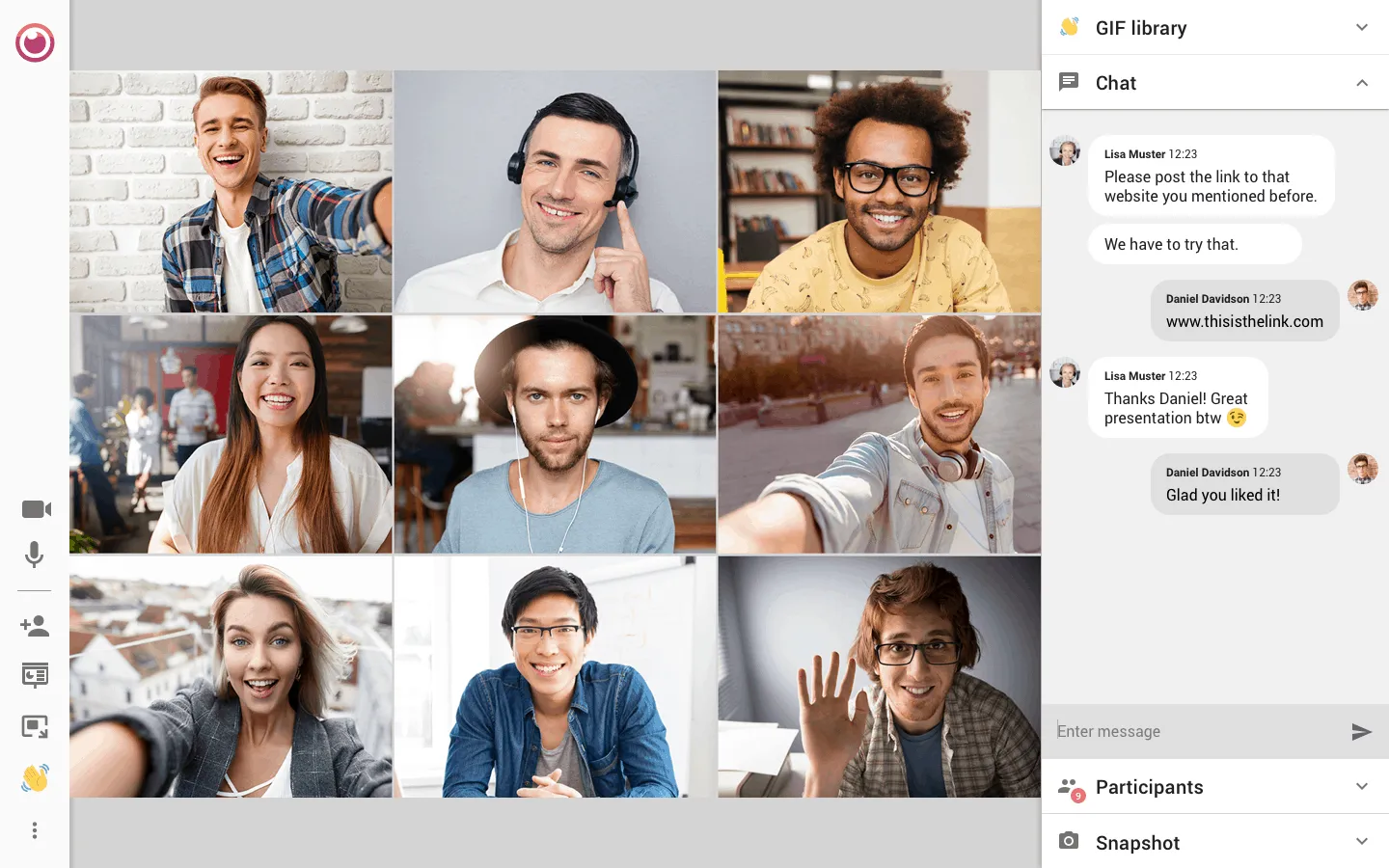 As you can see, the feature icons are positioned on the right and left side of your eyeson video call.
eyeson Features
Below we provide a general overview of all our features. For a detailed explanation, please click the links below.
Chat

With eyeson, you can chat with your video call participants. Just click on the icon and enter your message.

If you want to spontaneously invite a colleague or friend to your video call, click on Invite guest. A meeting link, and a QR code, is provided which you can share with your preferred communication tool.

While in a meeting, you can share the following content:
your entire screen, application window, or browser tab in flull screen mode in the video stream
your entire screen, application window, or browser tab instead of your own video (ScreenCam feature)
PDF, image or video file (also per Drag&Drop)

This feature allows customers to activate live streaming with the possibility to use different streaming providers.

You can easily record & download your group video calls. eyeson provides unlimited cloud storage. When you are ready to record, simply click on the icon. All participants in the video meeting will be notified when a recording starts.
Full Screen

Just click on this icon to go full screen.

You can easily change your layout settings with eyeson. Choose between auto (up to 9 people on video), single, two & four.

With this feature you can make snapshots of your video meeting with one simple click.

You can also react with a GIF to your video call participants. When you use this feature, a GIF will be shown for a couple of seconds instead of yourself. You can also browse through giphy's database.

With this feature you can mute all participants in a room with just one click. This button can be found on the right-hand side of your screen by clicking the participants button. People will be notified when mute-all is used. Everyone can easily un-mute themselves by clicking the button on the left-hand side with the microphone icon. The Mute All feature is super helpful when someone in the meeting is responsible for background noise.
Help

If you prefer using shortcuts to work with the features instead of mouse clicks, you can click the question-mark icon, and an overview of all shortcuts will be displayed.

With eyeson you can also enable the light and the dark mode. By default, the light mode is set. If you prefer dark colors, this feature is perfect for your needs.

You can lock your eyeson meeting once all of your participants have entered to prevent unwanted participants. You should not use this feature if you are unsure who will be attending your meeting or how many will be attending.

This feature gives you a chance to remove unexpected participants in case you forgot to lock your active meeting.
See eyeson in action in this video:
Need Support?
Should you have any comments, suggestions or questions, please do not hesitate to contact support@eyeson.com!