Easy Ways to Share Content with Your Team
Do you want to share your screen or share a PDF/image during a group video meeting? Cool, then eyeson represents the perfect solution for you.
After you have opened your eyeson room, click on Share Screen or File. This button is positioned as the third last icon on your bottom left of your window.

Now, you can decide between Share Screen or Share PDF or Image.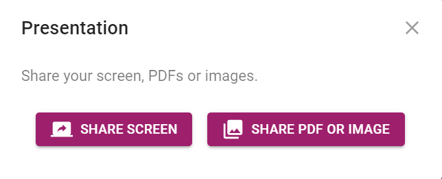 Click on Share Screen. Now you can decide between three options to share:
your entire screen
an application window
a certain browser tab.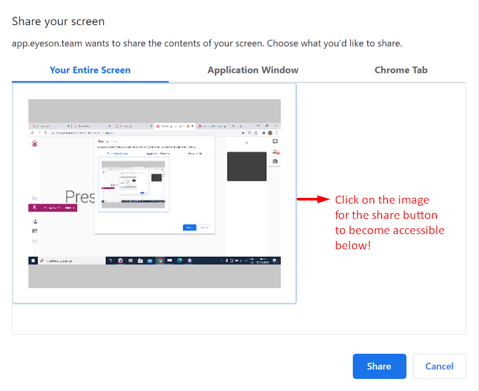 In this case, you have chosen to share your entire screen, you need to click on the picture with your screen on it in order to Share button to appear.

Screen share can be immediately stopped by simply clicking Stop in your call tab.

Note, that after you confirmed the screen-share, other participants will see exactly the same what you see on your screen. So, in case you need to open PPT or other presentation programs, this is possible to do with screen-sharing, meaning you just need to open a presentation on your computer and press "play".
If you are on the Mac using Google Chrome and have some problems, follow this link:
Problem With Screen Sharing After Update to Catalina?
We prepared a short video for you as well.
Need Support?
Should you have any comments, suggestions or questions, please do not hesitate to contact support@eyeson.com!