Video conferencing turns to the dark side!
There are plenty of fun eyeson features you can play with, including the operating system's new dark mode. But how can I switch from the light to the dark mode?
First, sign in to your account and select the room you want to join.
After starting your video call, what you want to do is clicking the icon in the lower left-hand corner.

As you can see in the image below, there's an icon that says "Dark mode". This where you set the Dark Mode, it's that simple!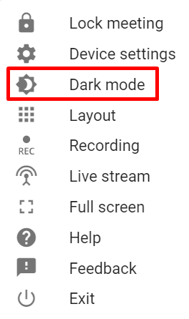 And here you go! It is done. If you want to go back to light mode, simply perform the previous steps - but vice versa.
Here is a short video about this feature.
Need Support?
Should you have any comments, suggestions or questions, please do not hesitate to contact support@eyeson.com!