Setting Up eyeson Call to Provide RTMP or RTMPS Live Stream
There are many video platforms which provide a livestream feature and most of them offer the possibility to receive RTMP streams to do so. This feature allows customers to activate livestreaming with the possibility to use different streaming providers.
In order to create the broadcast with eyeson you just need to:
Copy the RTMP or RTMPS URL and the Stream Key on your streaming site.
In your eyeson meeting, go to the left side bar, click on "More options" and choose "Live Stream".
Paste the RTMP or RTMPS URL and the Stream Key into the Livestream Dialog window
Press Start.
In a nutshell: Choose Livestream, enter the values and press start. Fast and simple!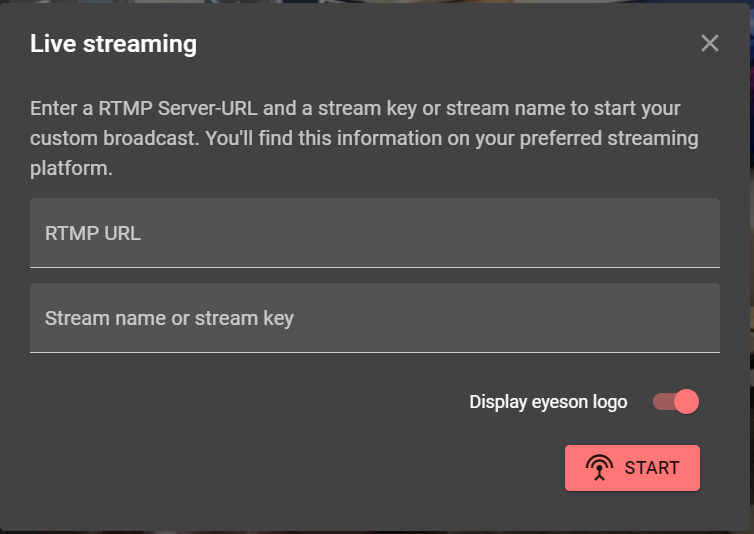 If you use a streaming site that requires user name and password in their RTMP or RTMPS URL, please use the following format:
rtmp://<user>:<password>@<host>/<application-name>
Don't forget to also enter the Stream Name or Stream Key into the second field.
Examples
Below we present you the instructions on how to find the required RTMP information for popular live stream providers:
---
YouTube
To find your RTMP information for YouTube, log into your YouTube account (make sure that you have approved live streaming in your Youtube account first), then navigate to the YouTube Studio and create a new live event. Enter your event's Title and select your desired Privacy setting for YouTube. At the event overview copy the Stream URL and the Stream key, enter the credentials in the eyeson meeting and be sure to click GO LIVE in YouTube in order for the stream to appear for viewers there.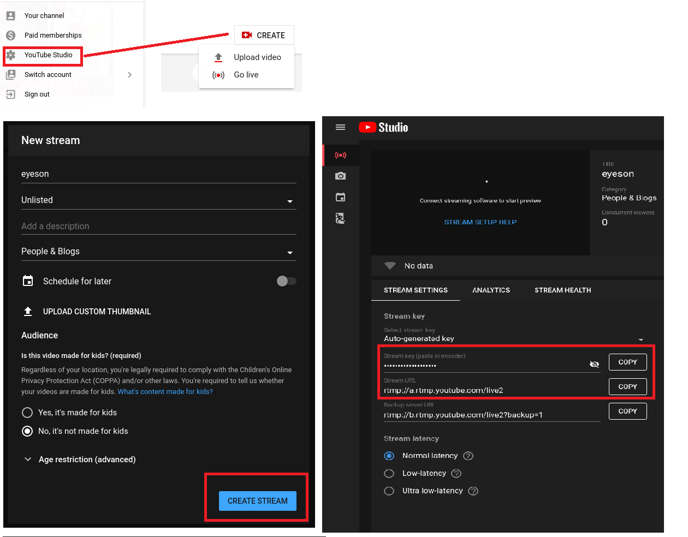 Facebook
You can stream to your profile via RTMPS from Facebook's Create Live page (and clicking Create Live Stream) or by clicking the Live button in the Create area of the page or profile to which you wish to stream. You will be brought to Facebook's Live Producer.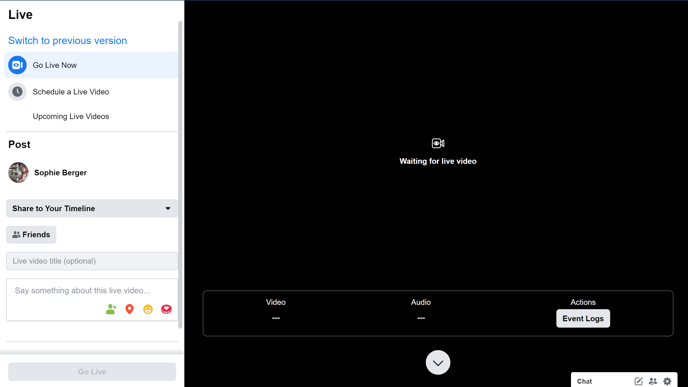 Scroll down below the preview player. Make sure under "Get Started" that the dropdown menu is set to Use Stream Keys. You will find the RTMPS URL and Stream Key for this destination. (Note: Your video preview is still visible in the bottom right corner.)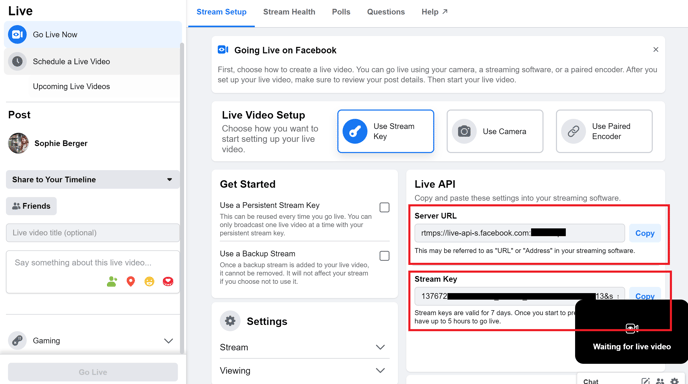 Copy and paste the URL and Stream Key into the Livestream Dialog window in your eyeson video call.
Other streaming providers
You can also use other video platforms which provide livestream feature, for example, Vimeo, Twitch, or Restream. In the last one, you just need to login, select where to stream, then RTMP URL and Stream key is already shown.

Here you can find more instructions for these video platforms.


Streaming to several platforms simultaneously
If you would like to stream to different or more platforms simultaneously, we recommend using a 3rd party provider (e.g. restream.io) which offers this feature.
Need Support?
Should you have any comments, suggestions or questions, please do not hesitate to contact support@eyeson.com!