Hosts, Members and Guests
As all tools vary in terms of their user descriptions, we've decided to provide you with an overview. When you buy a license to eyeson, you become a License Holder and can possess the license alone or share it with other teammates.
Teammates get free accounts from the License Holder, who purchased a package with more than one host. All people with active eyeson accounts are Hosts.
Hosts can create new rooms, start calls or share an existing room with other hosts. Essentially, every host has a login to the eyeson platform and can use the same features except that of the License Holder, who can manage their licenses.
Attention! A License Holder won't see the rooms of other hosts unless the permanent room link was shared, and they are now members of their teammates' rooms. See more information on this below. Again, each host has their own login to the platform, for as long as the License Holder keeps them on the list.
Room Roles
It's important to know, from the room perspective, we distinguish between two different roles of hosts. Let's give you an example.
Imagine you bought a license with more than one host and assigned other people to your license list. Now you want to create a room, here is how you can distinguish different peoples' roles:
Host (Owner) of the Room
This is a user who created the room. He/she can start calls on their own and invite other people to share this room together (members). The owner can change the room's settings (decide if live streaming, recording, layout settings and video reactions are activated or not in the room) or delete the room altogether.
Host (Member) of the Room
This is a user with an active eyeson account, who was invited by the owner to the room to share it. A member can also be removed from the room by the owner. He/she can also start calls on their own without the room owner's participation.
Now imagine Elijah Baggins created a room for a video meeting and invited other people to it, here is how the roles will look: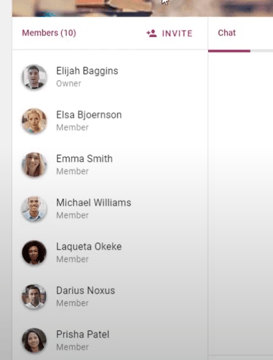 Video Call Roles
Host / Members of the Call
All people with an active eyeson account can start video calls on their own, create as many rooms as they want and share those rooms with others. Moreover, they can always access the history of their calls, where they can find shareable snapshots and recordings.
Guest of the Call
A guest can be invited to a video meeting by any host. Guests do not need an eyeson account, and no downloads or installs are required. They can only enter a video call they are invited to if a host or member is already present, as they do not have access to rooms without a license holder.
Want to learn more? We've prepared a short video for you:
Need Support?
Should you have any comments, suggestions or questions, please do not hesitate to contact support@eyeson.com!