Need to assign other hosts to your license?
You as license holder have full control over your team license. You can easily manage your host list within a few steps.
This is how it works:
After you have logged in, go to the menu on the left-hand side and click on License. Or directly open: https://accounts.eyeson.team/licenses
Choose the license and click on View & Edit Hosts.
Enter the mail addresses of your chosen teammate. Use line breaks after each address so that every e-mail address is written on a separate line. Like this:

Click on Update.
Please note: Hosts, meaning your teammates, need to register on eyeson with the same email address you assigned the license to. Once they are logged in they have full access and rights as they are registered to your team license.
Your teammates will not get informed with a mail notification from eyeson when you add them to your list. Therefore, you can remove and again add hosts as often as you like.
Do you need more hosts? No problem! Check here to see which options you have.
Attention! It is important that you NEVER DELETE YOUR OWN ACCOUNT EMAIL from the host list. If you accidentally deleted it, you won't be able to access the system anymore as your account was registered with exactly this e-mail address. For more information click here.
What should invited teammates do?
Sign UP with the same email which the license holder assigned under the host list
Enjoy eyeson!
If the invited teammates want to have a proof that they are under your license, they should go to the License page and check the message that they are "a part of an active license." Like that: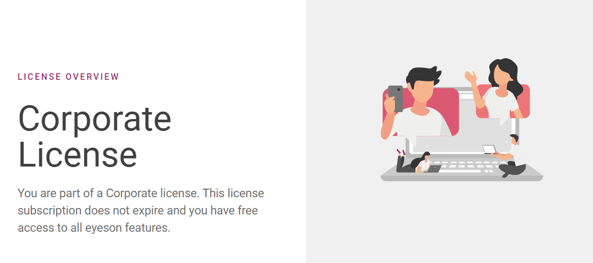 Need Support?
Should you have any comments, suggestions or questions, please do not hesitate to contact support@eyeson.com!