If You Want to Leave the eyeson Platform and Delete All Data
IMPORTANT! Before requesting the deletion of your account, please make sure to cancel any active eyeson subscriptions in Fastspring!
Deleting your account will not automatically cancel your subscriptions, so this step is important. To cancel your license subscriptions, please follow the steps from this article. In order to cancel your eyeson Premium app subscription, you can do it easily in the App Store or Google Play Store.
Additionally, please be aware that you will NOT be able to reactivate your account or retrieve any of the information saved in your account once you deleted it.
To delete your account, log in to the eyeson website, either on your mobile or desktop browser, and go to your account settings. Please note that deleting your account is not supported in the mobile apps, so you have to do it in the browser.
Good to know: You can still log in to your account and delete it even if you no longer have an active subscription. If you forgot your password, please see here how to reset it.
How to delete your account in 5 simple steps
1. Login to your eyeson account in your browser (not the mobile app!).
2. Open your account settings. You find them in the upper right corner of the home screen (see picture below).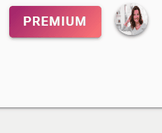 3. In the now open settings window, switch to Account. The following view appears: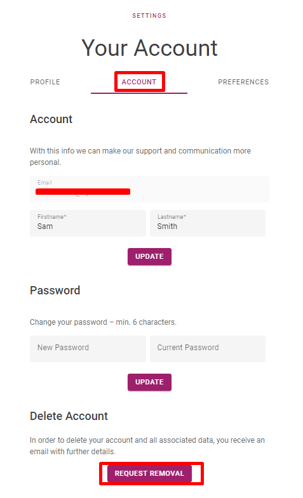 4. Click on Request Removal. You will receive an e-mail confirmation for deleting your account.
5. Check your inbox and spam folder for this communication and click on the Confirm-Button to confirm your deletion request. Once confirmed, your account will be deleted and you will receive a final email letting you know that your account was successfully deleted.
Need Support?
You can get in touch here via our support chat or by emailing us at support@eyeson.com if you need further assistance!