As the eyeson payment runs on Fastspring we provide you with different payment options.
Standard Payment Options
The eyeson license store will accept payments by all major credit cards, including Visa, MasterCard, American Express, Discover, JCB, and UnionPay. In case you chose Credit Card as your preferred payment method, you'll be asked to enter your Card Number, Expiration date, and Security Code.
If you would like to pay with PayPal or other methods (if available in your country), please select them.
Buying a license
You can buy a license in your account anytime during your trial or choose from our plans after the trial ended.
After purchasing a license, you will receive an email from FastSpring (our payment provider). Click on the link next to "License Key".
You will be redirected to a page where you can activate your license key

. To make things easier for you, the license key form is pre-filled!

Now you can continue to enjoy using eyeson! Other helpful resources include managing your subscription and team license.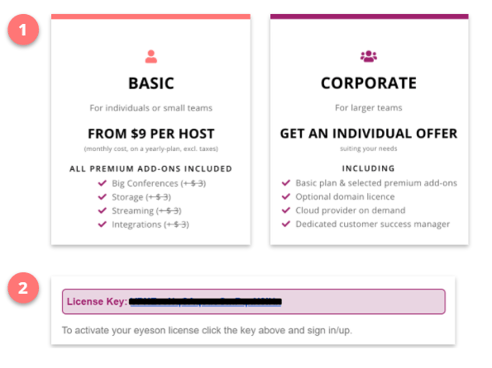 If you have any further questions, please feel free to contact us at support@eyeson.com.