With eyeson you can easily participate in a group video call on your cell phone.
If you are searching explicitly e.g. for a free "phone dial-in" features, you won't find it on eyeson. Here's why:
We know phone dial-in is very easy to use (if you manage to enter your PIN), but meanwhile, so many people also know how to open a simple link. Therefore, we decided to no longer support dial-in anymore.
What we DO provide you with is the possibility to join a call without any installation or registration. Convenient, right? Outlined below are instances of how we support easy access with cell phones.
eyeson provides a flexible range of options to participate with cell phones:
Voice only participation in networks that do not provide sufficient video bandwidth.
Simple p2p audio and video calls.
Full participation with voice and video in bigger group video conversations.
How to Participate with a Guest Link on Your Cell Phone
During an active eyeson meeting you can send the Guest Link to your participants. Read more about this feature here.
Participate directly on the phone, in a mobile browser window, without any software installation or registration.
When you have insufficient bandwidth for a video call - please enter the Audio-Only Mode.
If you use eyeson frequently, we recommend installing our mobile app. Just search for "eyeson" in your app store and install the app for free.
How to Move a Call from Desktop PC to Your Phone
With the QR Code, it is easy to leave your office and still continuing your video call. Just open the Invite Guest dialog and scan the code, then you can close the call on your desktop PC and continue the call on your phone.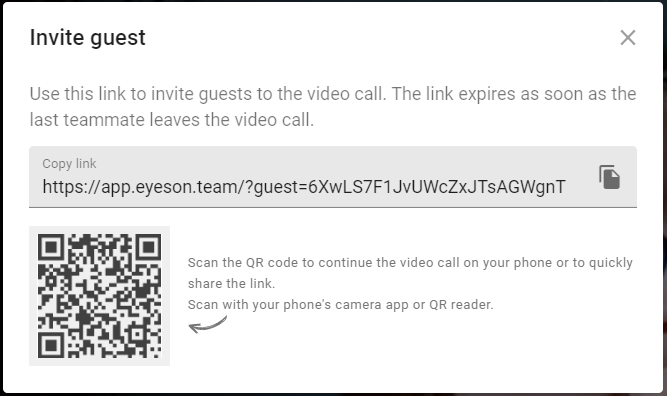 Need Support?
Should you have any comments, suggestions or questions, please do not hesitate to contact support@eyeson.com!