A Collection of Known Experiences and How to Handle
Here we present a collection of known experiences:
Your YouTube Account Is Not Activated for Live Streaming
In this case, you receive the following message: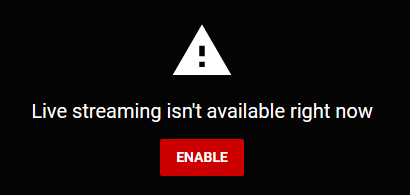 This error message occurs if you have not allowed live streaming in your Youtube account. To enable it, you will have to verify your telephone number.
According to Youtube: "Enabling your first live stream may take up to 24 hours. Once enabled, you can live stream instantly."
If your Youtube Live Stream is still not working, please contact Youtube. From there on, we are unfortunately powerless.
Your Live Stream Is Currently Blocked by Another Session
There are at least two reasons why this can happen:
You stopped your live stream in eyeson room and started it again too quickly
You have another source (outside eyeson) active which is blocking your YouTube live streaming environment
If you only use it with eyeson this issue can be fixed by just waiting until the YouTube live stream environment is available again. This can take up to one minute – just be patient with Youtube.
If another live stream is active within your YouTube account, you have to close it.
After that, wait some moments until the Youtube environment is ready again. Retry!
Youtube Live Streaming Help Links
Find a more detailed introduction to live streaming with eyeson here.
For more information on how to live stream with Youtube, have a look at Youtube's help center.
Streaming to several platforms simultaneously
If you would like to stream to different or more platforms simultaneously, we recommend using a 3rd party provider (e.g. restream.io) which offers this feature.
Need Support?
Should you have any comments, suggestions or questions, please do not hesitate to contact support@eyeson.com!