Equipment, Cameras, Microphones & Headsets
Nowadays, many devices such as laptops, tablets or mobile phones have speakers, microphones and cameras already included. In most cases, these integrated tools are sufficient.
Depending on the workplace situation, environment and conference set-up, you might need some additional devices to get the best results for your video meetings.
Since we've already acquired extensive experience which such devices, we wanted to share our knowledge with you (not sponsored).
Webcams for PC / Laptop
These webcams possess HD quality and deliver a very stable image even with diverse room light conditions. The integrated microphones allow handsfree talking without any problems.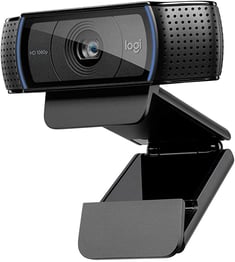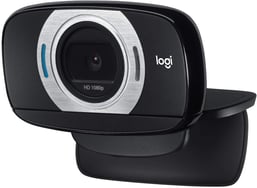 Headsets
If you use video conferencing for communicational reasons, a headset with an integrated microphone is needed, especially if you work in a shared office. Basically, all headsets with integrated microphones are sufficient to fade out noises and disturbances.
We have great experiences with the Sennheiser PC 8 USB headset.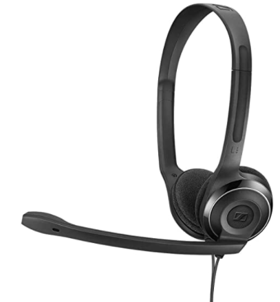 Another important reason for using headsets is when two or more people are taking part in the same video conference sitting next to each other in the same office.
An echo canceller eliminates the noise on the same client, but does not work when you practice handsfree speaking with two clients connected next to each other in the same room. In this case, we recommend using a headset.
Of course, you can also sit together in front of one PC and look into the same webcam when you do not have a headset available!
Conference Room Equipment
For business meetings you will need more than a simple webcam or headset. Your camera needs to have a remote control, and you need to get the audio of all people who participate in your meeting.
The loudspeakers for listening to remote participants should be of good quality as well, without bringing loop-back noise into your online video meeting. We have encountered good experiences with the following systems:
Logitech Conferencing System for midsized to large conference rooms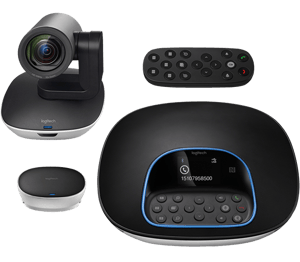 Portable Wireless / Bluetooth Conference Equipment for smaller conference rooms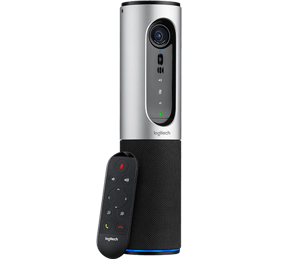 Equipment For Larger Audiences
In general, this type of business is not connected to our business. However, here is a short list of vendors who support equipping larger conference rooms and live stages.
When selecting devices for your video meetings, make sure to have USB interfaces available to connect your audio and video equipment with a PC since it makes it easy for connecting to eyeson.
Microphones for Webinar Audience and Q & A
Sometimes you have bigger conference rooms when showing your group video calls on a projector. For example, product presentations or talks. In such situations, not everybody wants to actively participate. Therefore, a proper setup is not needed. A simple wireless microphone that is connected via USB is sufficient. For Q & A sessions, the microphone can simply be passed around.
Therefore, a camera for showing all people and a standardized microphone provide a great set-up. Luckily, good microphones with sufficient quality are easily available. Any microphone for karaoke or simple speeches can be used.
We have used the following microphone, and it worked perfectly for ranges up to 15m in the same room. However, feel free to look for alternatives and do your own tests since we did not compare it with others and there are plenty of different models available in different online shops.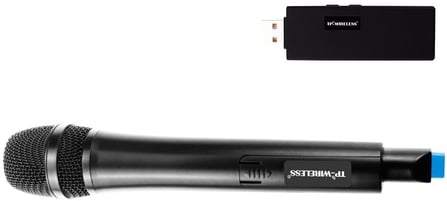 Need Support?
Should you have any comments, suggestions or questions, please do not hesitate to contact support@eyeson.com!