With eyeson, unless you permanently delete your account information, you can purchase a new license key whenever you want and regain access to your rooms and meeting history.
Have the term of your license ended, but you want to buy a new one and regain your account's history? No problem, we've got you covered!
You can always purchase the new license, at any time, depending on your current needs:
For individuals and small teams, we offer plans up to 10 hosts, which can be purchased online here.
For larger teams and corporates, please contact sales to get a custom offer tailored to your needs.
After purchasing a new license, as always, you will receive a link from FastSpring. In order to activate this link with the new key, follow the same process you did the first time. However, this time the license key form may NOT be pre-filled. So after activation, use the panel on the left side of your account to make sure that your email is under the host list of the new license. Otherwise, you won't be able to access the system.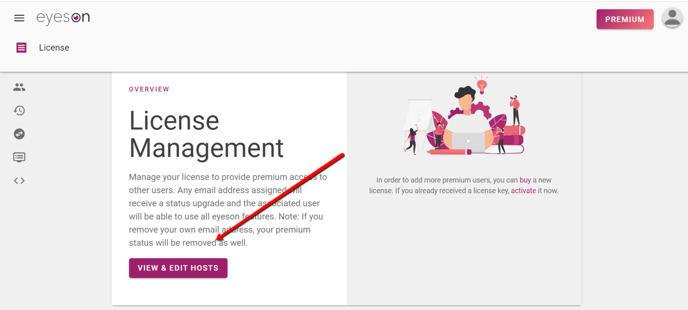 Need Support?
Should you have any comments, suggestions or questions, please do not hesitate to contact support@eyeson.com!