And why should I use it?
eyeson is a cloud-based group video call software which is specialized in serving daily meetings. If an eyeson account has been created, you can create rooms for your meetings. These rooms can be personalized with images and room titles.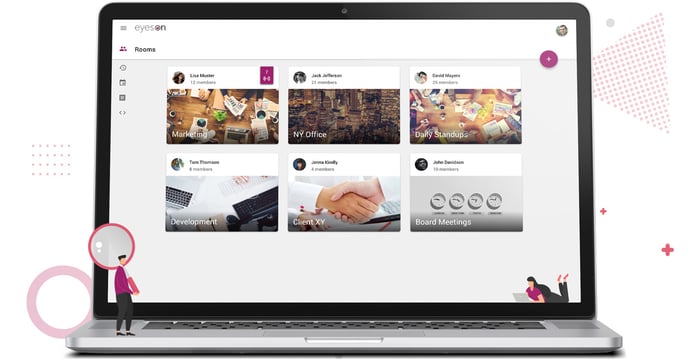 Therefore, you can create as many rooms as you want, for different purposes or team settings. Your team can share rooms and meet in these rooms as often as they want. Moreover, the meeting histories for the respective rooms are automatically saved which contributes to the meetings' outputs since everything can be recorded and reviewed.
The browser-based app does not need any installation, solely data has to be inserted for creating an account. Moreover, you can even invite people, who do not have an account. They can be added as simple guests for a one-time online meeting. This means that if you have arranged an online video call with an external person, you can simply send an invitation via email.
Moreover, you can also start multi-speaker calls which can be streamed on YouTube and Facebook as well as other re-stream providers.
What features does eyeson offer you?
eyeson provides a lot of different features (see here) that you can use to make the best out of your online meetings. In the following article, we will only mention the most important ones:
First, it has to be mentioned that the video quality always stays HD, independent of the number of participants. Due to eyeson's Single Stream Technology (SST), significantly less bandwidth is used than with other providers which is also important when you use eyeson via your mobile phone. A perfectly optimized mobile integration allows you a trouble-free eyeson group video call experience. Moreover, eyeson provides you with an Android app and iOS app as well.
Second, eyeson can also be integrated into many other collaboration tools. Often, teams use Slack, Jira, Trello, etc. With an eyeson account, you can directly send video chat invitations from your favored tool. You can find more information about our integrations here.
Third, you can activate live streaming with the possibility to use different streaming providers. You can decide with whom you want to share your streamed content. Moreover, an introduction can be written and a title can be given as well. Furthermore, you are able to send eyeson invitations via Facebook.
Fourth, up to 9 people can be visible within one video call and up to 100 attendees can participate with audio. However, all settings can be changed during an eyeson video meeting. This means that participants can decide that they do not want to be visible anymore.
Fifth, since eyeson is designed for teams, it offers team sized licenses. This means, that you can choose a plan fit for your needs.
For larger teams, please contact sales for an individual offer suiting your needs.

If you want to know more about the tool, please go eyeson.com or visit our blog where you can also watch our tutorials.
Need Support?
Should you have any comments, suggestions or questions, please do not hesitate to contact support@eyeson.com!