How to use eyeson from the App
If you want to start a call from your mobile app, it is very easy: just open the eyeson app, if you have it already installed and start a call from the preferred room.

If someone invites you to a video call, you'll get a message, mail etc. with a link attached. Click on this link. After that you'll get redirected to the Google Play Store (Android) or App Store (iOS) if you haven't installed the eyeson app so far.
Download the eyeson team app. Open the app.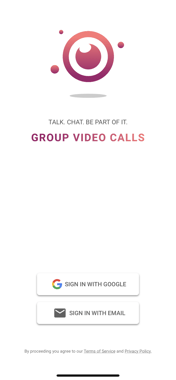 FYI - This is the iOS welcome screen.
Then, sign in.
Note: you have to use the same log in data (Google, email) for the app and the web. Just if you use the same one, you can use shared rooms on the web and on your mobile phone.
After that, you'll automatically get redirected to the room you were invited. Here you can chat with your team members or start video calls. On the picture below you can see how the room in the iOS looks like.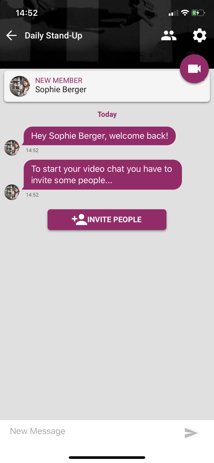 Once, you've tapped on the room link and you've entered the video call, the room is part of your room list (this applies to people who have eyeson license). This means, that you can enter it at any time.
If you do not have license or if you do not want to install another app, then you can always answer a call from your phone browser! No need to download an app.
Need Support?
Should you have any comments, suggestions or questions, please do not hesitate to contact support@eyeson.com!