Organizing your account via the eyeson App.
Organizing your eyeson rooms is really simple. You only have to consider if you are the room owner or not.
Room Owner
As you can see, Sophie is the Room Owner (Admin). Sarah is a Group Member.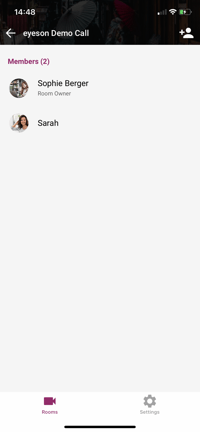 Only as the room owner can you delete this room. This means that the room is not only deleted in your eyeson account, it is also deleted for all your room members.
Room Member
If you are a room member, you can simply remove the room from your account. In this case, you leave the room, though, it is still active and usable for the other members & the owner. Just tap on Settings and then on Remove.
Need Support?
Should you have any comments, suggestions or questions, please do not hesitate to contact support@eyeson.com!