How to Connect eyeson with Your Dropbox Account
Dropbox is one of the main file hosting services which offers cloud storage. And with our Dropbox integration you can store your video meeting data there.
After you connected your eyeson and Dropbox account, a folder called eyeson is automatically created. There, all your recordings, snapshots etc. are saved.
IMPORTANT! Due to the Dropbox API Policy changes, recordings that far larger than file length of 30 minutes or 500 MB currently may not appear in Dropbox automatically. Please, download them manually from the room history and upload to Dropbox.

Please note: If someone else records the video meeting, it won't be saved in your Dropbox folder, as it always ends up in the folder of the person who started a recording.
How to Get Started
Log in to your eyeson account and navigate to the AppConnect. You just follow this link: https://accounts.eyeson.team/connect
You can now see different integrations.
Click on the Dropbox.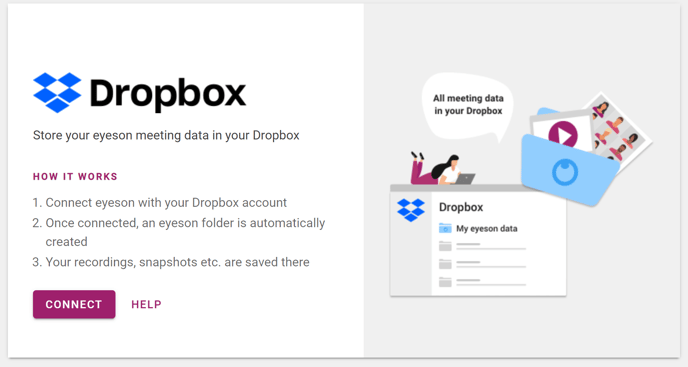 After opening you find a short description on how the Dropbox integration works.
Click on connect. As a next step please sign in to your Dropbox account by using your mail address or your google account. If you don't have an Dropbox account yet, click on New to Dropbox? Create an account and follow these steps.
Now, eyeson asks you to get access to your Dropbox folder. Click on Allow, otherwise the setup process is canceled.
As the last step please click on connect now to finalize the setup process.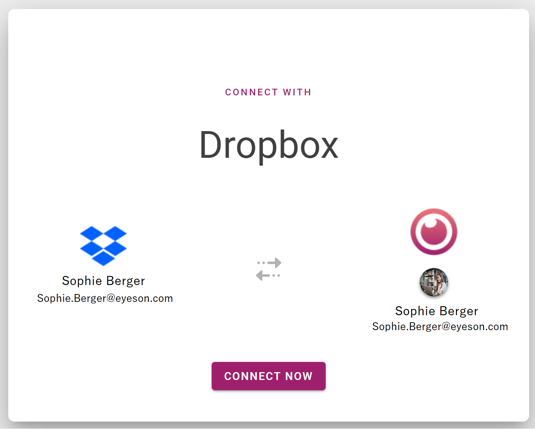 Well done! You can now start your video meetings and your recordings, snapshots etc. will automatically be saved in your Dropbox folder.
Need Support?
Should you have any comments, suggestions or questions, please do not hesitate to contact support@eyeson.com!